Creativity and Research & Development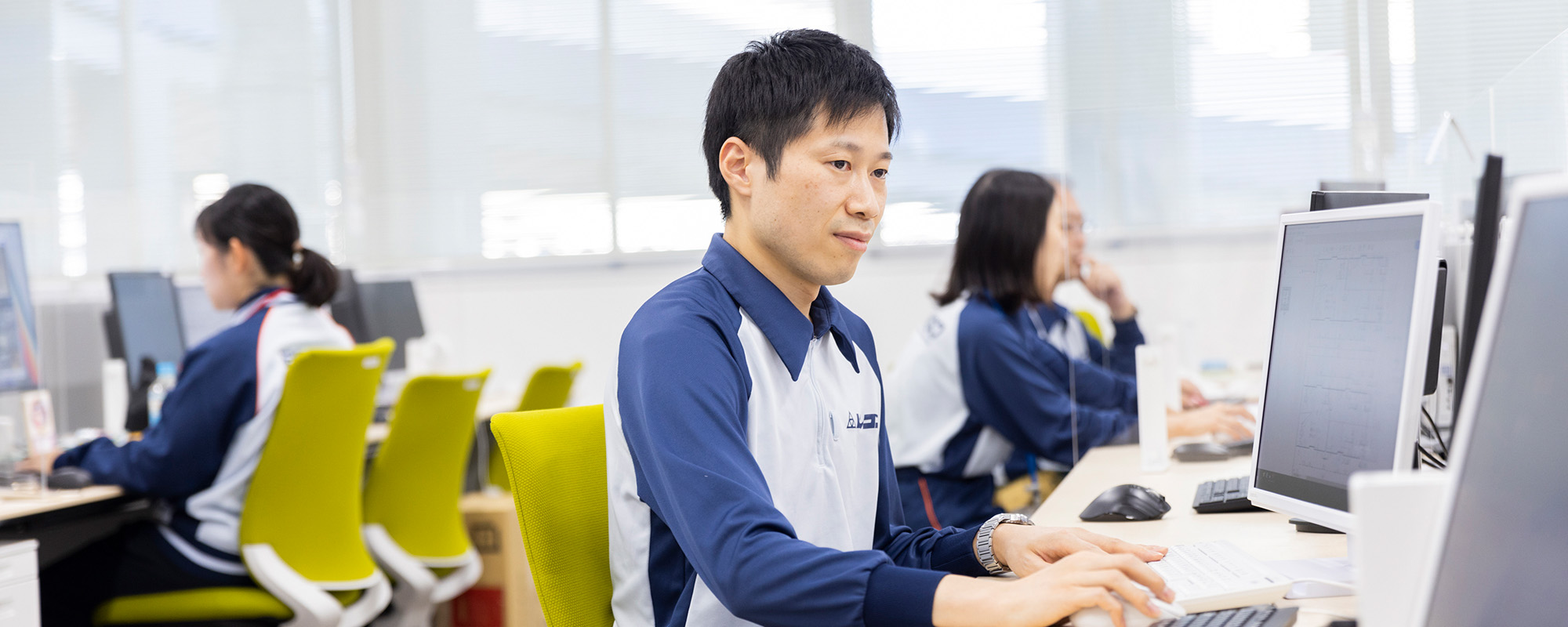 We solve packaging issues
by optimizing packaging design.
Packaging Technology
Pursuing and proposing the best packaging taking into consideration
product characteristics and distribution flow
Various functions and qualities are required of packaging to deliver precious products safely to consumers while protecting these products. Rengo designs packaging and selects materials taking into consideration various factors, including the characteristics of products; strength and shock absorption based on transportation, storage, and other logistics conditions; and stacking efficiency on palettes. Furthermore, we pursue and propose the best packaging that meets conflicting demands such as straightforward assembly, effortless opening, ease of disposal and recycling, and cost performance.
Experience accumulated over more than a century gives
rise to the difference in quality
Rengo has a history of over 100 years as the leading company in corrugated packaging and other packaging, accumulating a vast amount of precious experimental data and knowledge not found elsewhere. Package testing—such as compression, vibration, and dropping—and environmental testing recreating temperature and humidity during the logistics process are also conducted under conditions as close to actual conditions as possible. In addition, we also carry out design with various ingenuities taking into consideration the psychological aspect of people handling parcels, such as using structures where the products within can be seen to encourage handling with care.

Compression test

Vibration test

Drop test
Designing numerous innovative packaging
that transcend existing mindsets
From RSDP—an innovative packaging which has drawn attention for bringing together all the functions of being easy to transport, display, and sell—to the S-Lock Tray for fruit which balances significantly reducing the area of corrugated board used while improving workability in assembly and disassembly, and our rich lineup of no-staple corrugated boxes and cushioning materials. We use our strengths—such as diverse human resources with different specializations, and collaboration between the Packaging Machinery Department and design departments—to bring forth many products changing the history of packaging.
Rengo Smart Display Packaging (RSDP)

S-Lock Tray

Rengo's No-staple corrugated box

Corrugated cushioning material
Controlled atmosphere room

Testing physical properties of containerboard and corrugated packaging
Closely following the needs of customers to support
the making of ideal packaging
Rengo uses our network which comprehensively covers the whole of Japan to support the development of packaging which closely follows the needs of our customers down to the smallest details. We respond with particular attention to technological issues related to packaging through close collaboration between salespersons and engineers.
Packaging Technical Department, Tokyo 5-14-8 Ryoke, Kawaguchi-shi,
Saitama Prefecture, Japan 332-0004
TEL. +81-48-225-7600 FAX. +81-48-225-7649

Packaging Technical Department, Osaka 4‐1‐186 Ohiraki, Fukushima-ku,
Osaka, Japan 553-0007
TEL. +81-6-6465-5068 FAX. +81-6-6465-02200