Message from the Top Management about Sustainability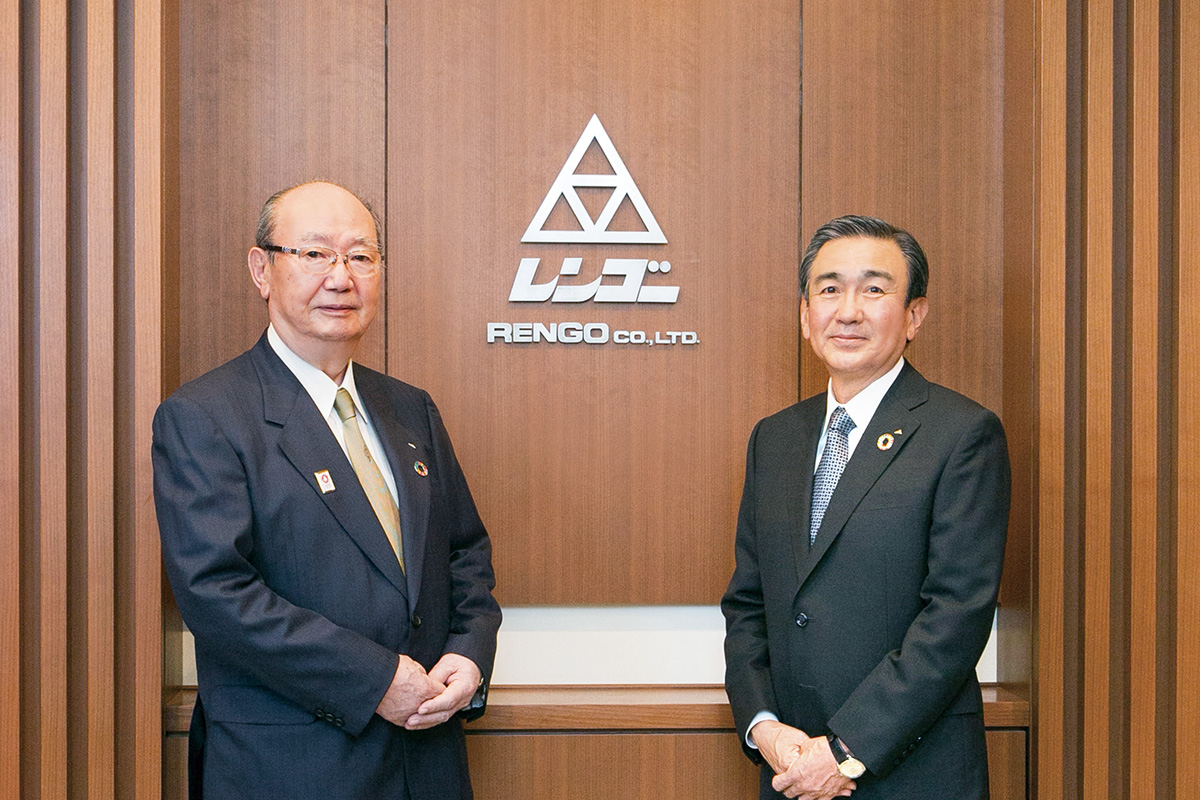 The Rengo Group recognizes the reduction of the environmental impact arising from its business activities as one of the company's top-priority management issues which needs to be worked on, and has dedicated its efforts to addressing the problem of climate change. As the government raises the greenhouse gas emissions reduction target, responding to climate change becomes more urgent. In order to further accelerate our own environmental efforts, in April 2021, we revised the Rengo Group Environmental Charter. In conjunction with this, we have also formulated the Rengo Group Environment Action 2050 and Eco Challenge 2030, new medium- and long-term environmental targets for the years 2050 and 2030, respectively. Led by these new policies, we are striving to increase the number of biomass boilers and move away from using coal fuels in order to realize a carbon-free society. We seek to reduce total Group-wide CO2 emissions in FY2030 by 46% in comparison to FY2013, and to achieve carbon neutrality—achieving essentially zero greenhouse gas emissions—by the year 2050.
To contribute to the development of a sustainable society, as we strengthen the Group's environmental, social, and governance initiatives, we are using state-of-the-art digital technologies to increase work efficiency, create new added value, and respond to work style reforms. The DX Promotion Investigation Committee, established in April 2020 with the president as its chairman, develops business processes through digitalization while working to enhance information security measures and develop DX human resources. Rengo is using cutting edge information and communications technologies including 5G so that it can conduct efficient and effective business during the new normal of the COVID-19 era and is building Cyber-Physical Systems (CPS) that achieve harmony between massive amounts of data and the people that handle them.
With "Less is more." as our key business concept, the Rengo Group, which offers innovative and diverse solutions that meet the packaging needs of all industries, is generating more value using fewer resources and continuously creating innovative packaging that is both people-friendly and environmentally-friendly. However, the expectations and demands of society are getting complex and diverse, and our social responsibility grows with every year. We strive to be a corporate group that can live up to the trust of various stakeholders, such as shareholders, suppliers, employees, and communities. Led by our implementation of ESG management, we will further promote activities to enhance corporate value. We will continue to take on new challenges through our tireless commitment to continual changes in thinking and innovation as we strive to realize a better and sustainable society that the SDGs aim for.
Kiyoshi Otsubo
Representative Director, Chairman & CEO
Yosuke Kawamoto
Representative Director, President & COO