Corporate Governance
Basic Stance
To remain an enterprise deserving of the firm trust and confidence society has placed in it, Rengo's goal is timely and accurate information disclosure combined with sound and highly transparent management with the mission of solving social issues through packaging. In keeping with our corporate philosophy whose essence is "The truth is in the workplace," Rengo is enhancing corporate governance by strengthening the current system of Directors and Audit & Supervisory Board members while delegating authority and accelerating decision-making.
In response to the Corporate Governance Code, Rengo has disclosed its approaches to the Corporate Governance Code to the Tokyo Stock Exchange in the form of a Corporate Governance Report. The most recent report was submitted on June 30, 2021. Considering the purpose of the Corporate Governance Code, we are continuing to work toward sustained growth for our company and improving our corporate value in the medium- to long-term.
Corporate Governance Structure
As a company with audit & supervisory board members, Rengo is making efforts to enhance its management transparency and strengthen its supervision of management. Our Audit & Supervisory Board, our Internal Audit Organization, and other related bodies work together to secure audit schedules and audit structures, as well as appropriate auditing by external independent auditors. Audit & Supervisory Board members monitor the directors' performance of duties and the operations, as well as the financial conditions of Rengo and its subsidiaries.
In addition to the Board of Directors Meetings, as a general rule, Senior Executives' Meetings, Internal Officers' Meetings (attended by full-time officers), Department Liaison Meetings, and other meetings are held at least once per month to make decisions promptly and share important information, thereby performing duties in an efficient manner.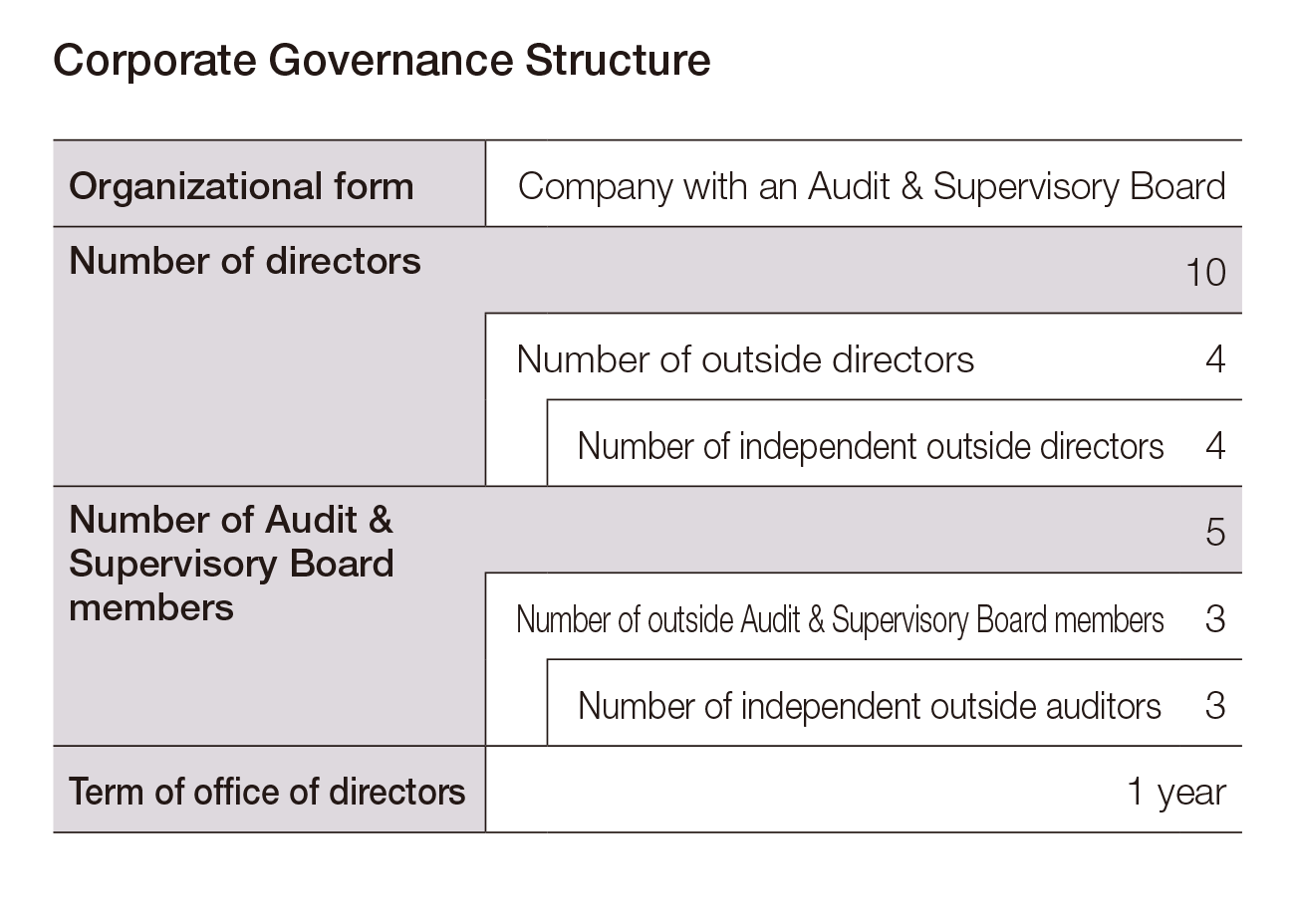 [Corporate Governance Structure (as of Dec. 17, 2021)]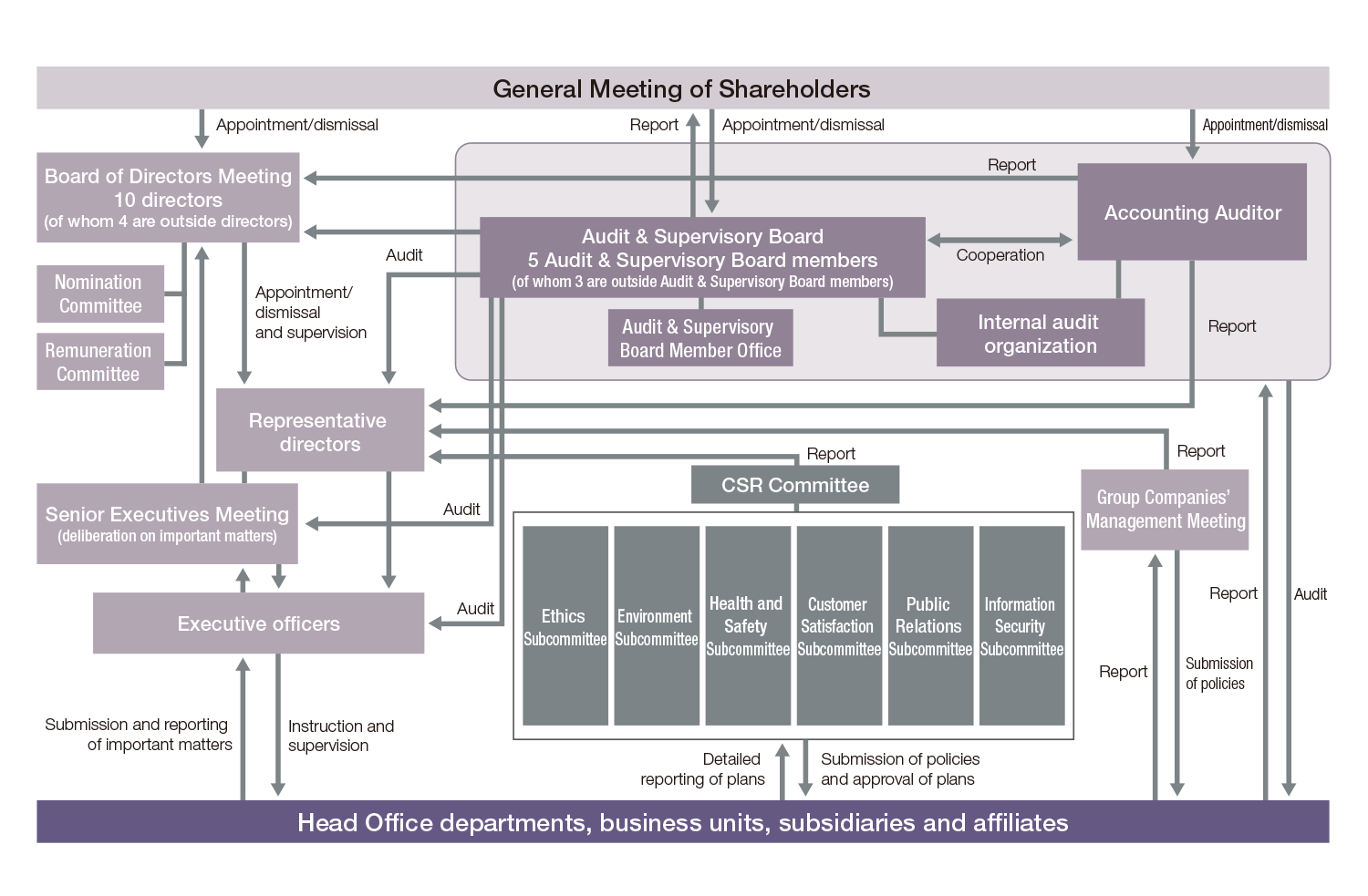 Ensuring the Expertise, Independence, and Diversity of the Board of Directors
As of June 29, 2021, Rengo's Board of Directors consisted of 10 directors. In appointing directors, Rengo comprehensively evaluates candidates' experience, knowledge, and expertise and makes holistic decisions. To ensure the effectiveness of supervision and the practicality of directors' discussions, Rengo appoints directors with an eye towards the overall balance and diversity of the Board of Directors.
Furthermore, Rengo has appointed four independent outside directors, thus allowing for opinions stated from an independent stance during discussions at Board meetings. In addition to meeting the criteria for outside directors in accordance with the Companies Act and satisfying the qualifications for independent directors with no potential conflicts of interest with ordinary shareholders stipulated by the Tokyo Stock Exchange, candidates who can contribute to sustainable growth and increasing corporate value over the medium to long term are selected as outside directors.
At the General Meeting of Shareholders held on June 29, 2021, one of the 10 directors, a woman, was appointed as an outside director. With this appointment, women now account for over 1/3 of the outside directors on the Board of Directors, a major step forward in ensuring the diversity of the Board's membership.
Three outside audit and supervisory board members have been appointed, and they will fulfill their roles and duties independently, making full use of their high-level of specialist knowledge and broad experience, as well as offering an appropriate level of input at Board of Directors Meetings.
Evaluation of the Effectiveness of the Board of Directors
Regarding the effectiveness of the Board of Directors, Rengo is working to enhance the functions of the Board through self-evaluation by directors and other means.
In February 2021, the company conducted a questionnaire survey (self-evaluation) of members of the Board of Directors and the Audit & Supervisory Board. The results of the analysis of the responses were discussed at a Board of Directors Meeting, and the overall effectiveness of the Board of Directors was confirmed. Directors and Audit & Supervisory Board Members have provided constructive input and suggestions regarding improvements to the composition, roles, and operation of the Board of Directors, and have shared issues facing the Board.
Rengo will continue to work to enhance the functions of the Board by regularly analyzing and evaluating the effectiveness of the Board of Directors.
Creation of a Nomination Committee and Compensation Committee
In December 2019, we created a Nomination Committee and a Compensation Committee as a voluntary consultation body for the Board of Directors. Each of these committees consists of three or more directors selected through Board of Directors resolution, at least half of whom are independent outside directors, and the position of committee chief in each committee is held by an outside director. Through these measures, we are promoting appropriate involvement and advice from outside directors, ensuring the independence and objectivity of the Board of Directors' functions, and improving the Board of Directors' accountability.
Compensation for Directors
Rengo has adopted a compensation system for directors that is linked to medium- and long-term performance in order to provide healthy incentives for achieving sustainable growth. We also provide treasury share compensation, appropriately set the ratio of cash compensation to treasury share compensation, and have a shareholders' association made up of directors so that the company is managed with an eye towards increasing corporate value.
Directors' compensation consists of basic compensation, performance-based compensation (bonuses), and non-monetary compensation (stock compensation). To ensure the independence of outside directors, their compensation consists solely of basic compensation.

Internal Control
Rengo formulated the basic policy for maintenance of internal controls pursuant to the Companies Act of Japan and the Board of Directors approved it in May 2006 (this policy was last revised in April 2020) to meet the internal control system requirements of the Financial Instruments and Exchange Act. Audit Department, which is independent of routine operations, evaluates internal control maintenance and operation and implements improvements to internal controls.
In FY2020, Rengo and its 118 consolidated subsidiaries were within the scope of evaluation of companywide internal controls and eight significant business entities, including Rengo, were subject to evaluation of internal controls of business processes. As a result of these evaluations, management judged that Rengo's internal controls covering financial reporting were effective as of March 31, 2021.